All About Boat Storage
Any type of watercraft is a significant investment that requires special care. As a boat owner, finding proper boat storage is an important aspect in extending the lifespan of your boat. For some owners, boats may even spend more time in storage than in the water. So it's essential to choose a boat storage option that fits your lifestyle, watercraft type, and budget.
This handy boat storage guide will provide everything there is to know about storing a boat properly.
Jump to a boat storage section:
Common Reasons for Needing Boat Storage
Your boat has certain requirements for proper storage, and it takes up a considerable amount of space. For many boat owners, storage options that come to mind are marina storage and home storage. Here are some of the most common reasons why boat owners often search for boat storage:
More free space
Something as sizeable as a boat can take up a lot of space and not every boat owner has the capacity to accommodate the proper storage space needed. Making room at home may end can leave you feeling cramped up or with very limited living space. Storing a boat on a driveway may prove to be an inconvenience for other vehicles you use more frequently. Even moreso, boat owners who live in an apartment or condo rarely have the space to store a boat at all.
Seasonal storage and weather protection
Boating season isn't a year-round activity for everyone. It's not uncommon for boat owners to take their boat out for one or two seasons and then store away for the rest of the year. Those especially that reside in chilly climate areas rely on dedicated winter storage to ensure their boat is fully protected from the harshest weather conditions. During the off-season, dry boat storage is often preferred since storing a boat in the water isn't ideal since the boat isn't being used, helping to avoid the stresses of rough water and outdoor elements that can damage a vessel over time.
Convenience and easy access
While some boat owners are lucky enough to live right on the water, many have to travel to reach their favorite boating spot. So finding available boat storage for rent near your favorite body of water can be a highly convenient option. Additionally, storage near your favorite boating places helps reduce the hassle and chance of damage that comes with having to transport a boat and trailer across long distances.
Homeowner's agreements or residential covenants
Depending on where you live, your neighborhood may have restrictions about what and where you're allowed to park vehicles, including recreational types like a boat. Apartment buildings and condominium complexes have especially limited storage options and spaces for vehicles. Meanwhile, neighborhoods and gated communities that are subject to HOA regulations often face similar restrictions on what types of vehicles can be parked, where they can be parked, and even the duration. That said, your own driveway or the curb in front of your house may not allow parking for boats, trailers, and RVs, much less for the duration needed.
Improved security and protection
Storing a boat in your own driveway may seem convenient enough, but not every boat owner may feel like it's the safest solution for long-term storing. For those that don't feel confident in terms of securely storing their boat, choosing boat storage options, such as indoor storage solutions, are a great choice to not only protect their vessel from weather elements, but also to protect against any sort of damage, vandalism, or theft at all times when it's not in use.
Types of Boat Storage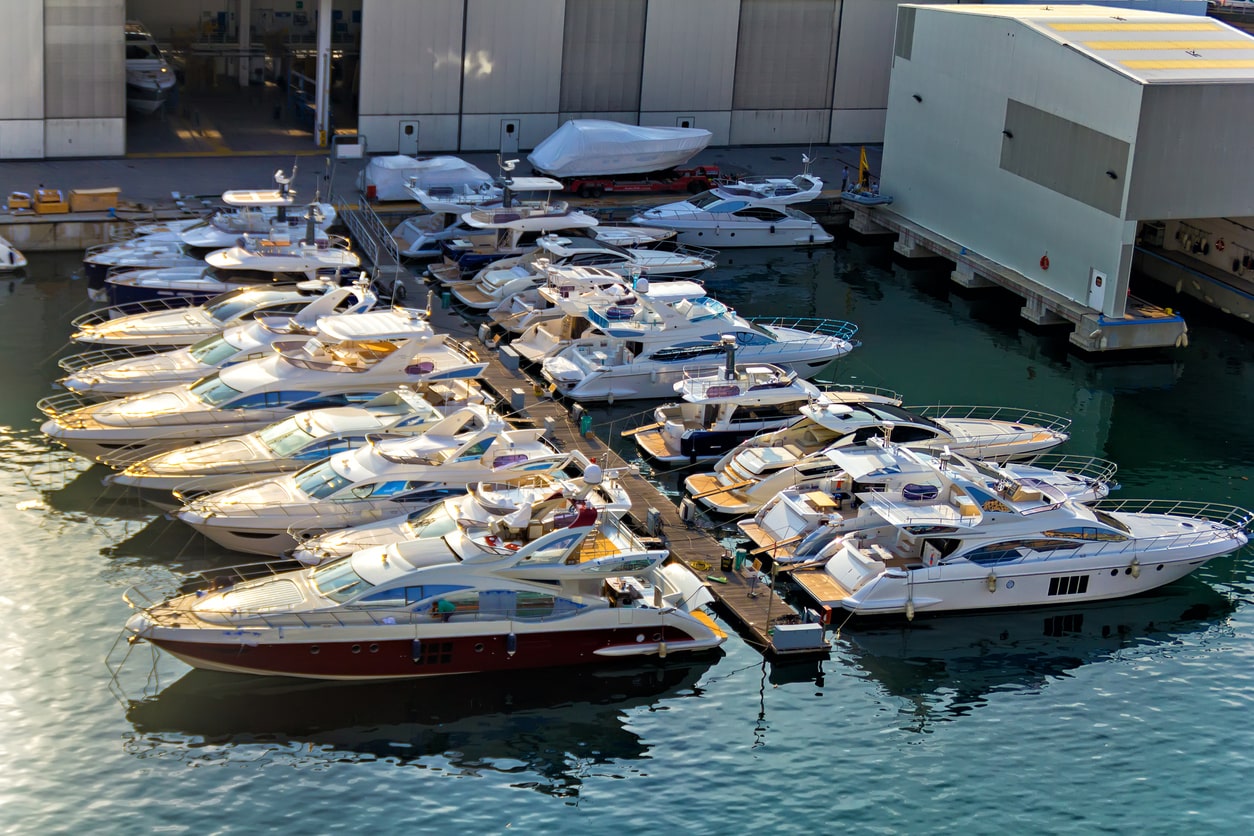 Choosing the best type of boat storage you need will depend on a variety of factors, ranging from the type of boat you own, to your local climate, to how often you want to access it. There are a variety of types of boat storage options available for all types of boat owners and their needs. Consider these types of boat storage solutions to determine the best type of boat storage for you.
Jump to a type of boat storage:
Types of outdoor boat storage
Upon considering the climate and weather trends in your area, you may find that storing your boat outdoors is the best option for your needs. While it won't be completely protected from the elements like indoor storage options, there are many methods of preparation to prepare your boat for outdoor storage in practically any kind of weather. These are the most common methods of outdoor boat storage:
Jump to a type of outdoor boat:Wet slip storage
Known for its convenience, wet slip storage means storing your boat in a designated spot in the water called a marina slip. This method is typically recommended for areas that don't experience temperatures that drop below freezing. Sometimes lift slips are available to allow you to lift the boat out of the water. Whether the boat is in the water or lifted, it's best to purchase a fitted cover to protect your boat from the elements. This storage method makes for an easy launch, but some watercraft are not meant to be stored in the water for long periods of time. Make sure wet slip storage is recommended for your type of boat before deciding on this storage method.
Pros of wet slip boat storage:
Convenience
Quick water access at all times
No need for a trailer
Some marinas offer electrical hookups and other amenities
Cons of wet slip boat storage:
Dock fees can be expensive
Your boat is always exposed to the weather and water conditions
Minimal security
Damage from barnacles and algae
Lift slip storage
Similar to wet slip storage, lift slips allow you to store your boat at the marina. However, this option allows the boat to be lifted out of the water. Here, you get the same convenience as wet slip storage but without the maintenance issues associated with leaving your boat in the water. There are three types of lift slip storage: floating, suspended, and bottom standing. Floating lifts are typically used with floating docks. Bottom standing lifts are generally found in shallow slips with fixed docks, and suspended lifts are used in moderate to deep water.
Pros of lift slip boat storage:
Convenience and easy access to the water
No need for a boat trailer
Quick water access at all times
Cons of lift slip boat storage:
Exposure to weather and rough waters
Lifts can be damaged by rough waters
Not a good choice for winter storage
Exposure to flooding and aquatic predators
Boatyard storage
Open lot storage spaces are open fields or expanses of land where boaters can park their boats and trailers. This makes for easy drive-up access, as well as a cheap and convenient way to store your boat. They may be a better fit for the summer than the winter and tend to have minimal security features. Often, boatyard storage options are located close to bodies of water.
Pros of boatyard storage:
Affordability
Often close to bodies of water
Might include alarms, security cameras, or other security features
Cons of boatyard storage:
Exposure to weather
UV exposure, even with a boat cover
Vulnerability to pests and rodents
Requires a fitted cover at all times
Requires winterization for winter storage
Driveway or parking spaces
Self-storage on your own property is likely the cheapest boat storage option. At home, your boat is readily available at all times, and you can set your own level of security. Still, you'll have to sacrifice your outdoor space, and your boat will be exposed to the elements. If outdoor storage at home is your only option, you'll want to invest in a fitted cover to protect against the elements.
Pros of storing a boat on a driveway:
Peace of mind
Affordability
Easy accessibility at all hours
Cons of storing a boat on a driveway:
Your HOA could make you move the boat
Exposure to UV rays and harsh weather conditions
Vulnerability to pests, rodents, and vandals
Types of indoor boat storage
Storing your boat indoors might be the most preferred option to ensure your watercraft is completely protected from the elements. These are the most common types of indoor boat storage:
Jump to a type of indoor boat:Garages
If you have a small boat or a spacious garage, indoor storage at home could provide several benefits. Your boat will be conveniently close by and can even benefit from your home's heating system during the winter. However, using your garage typically means you'll be moving another vehicle outdoors.
Pros of storing a boat in a garage:
Easy access
Affordability
Ability to perform maintenance tasks at any time
Protection from the weather
Security
Cons of storing a boat in a garage:
Limited space in your garage
Possible vulnerability to rodents and pests
Roll-up door storage units
Self-storage facilities provide a way to keep your boat out of the elements and provide easy access. This option is usually only suitable for small boats or watercraft like jet skis. While your boat will be protected from the elements, climate control usually isn't available.
Pros of a roll-up door storage unit for boat storage:
Protection from harsh weather
Security features
Available in many locations
Easy pickup and drop-off
Cons of a roll-up door storage unit for boat storage:
Can be expensive
Might be too small for larger boats
Climate control is often unavailable or expensive
High and dry lift storage
Also called dry-stacked storage, this option stores your boat safely in a warehouse with other boats. Rack storage space availability will depend on the beam of the boat, the length of the boat, the weight of the boat, and the height of the boat. With dry lift boat storage, access is also a little different since your boat will be retrieved with a forklift. When you're ready to take out your boat, you can typically call ahead, and the attendants will have your boat waiting for you in the water.
Pros of a high and dry lift boat storage:
Convenience
Protection from the elements
Less expensive than marina storage
You can often just leave your boat in the water at the end of the day
Cons of a high and dry lift boat storage:
Access times may be limited
Can be pricey and difficult to find in some areas
Larger boats may not fit
Covered boat storage
Opting for covered boat storage is also common. Although your boat will still be partially exposed to weather and surrounding elements, this boat storage option is often just enough for those that want something convenient that can still offer protection and affordability. These are the most common methods of covered boat storage:
Jump to a type of covered boat:Covered outdoor storage
An option in between indoor and outdoor storage, covered storage provides some protection from the weather at a more affordable price. Covered outdoor storage means you'll keep your boat in a covered outdoor storage space designed for vehicles. These spaces can accommodate most sizes.
Pros of covered outdoor storage:
Protection from the harshest weather and UV rays
Good security
Cheaper than indoor storage
Cons of covered outdoor storage:
Doesn't provide complete protection
Can be difficult to find
Carports
If your boat doesn't fit in your garage, a carport can provide a more secure option than storing your boat in the driveway. A carport can offer a partially enclosed at-home storage option dedicated to your boat. This option eliminates fees and provides more protection than driveway storage.
Pros of carports for boat storage:
Some protection from the elements
Storage at home
Affordability
Cons of carports for boat storage:
You need permanent space to put the carport
Doesn't provide the same coverage as indoor storage
The upfront cost of a carport
Watercraft and Boat Storage Size Guide
The size of your boat is one of the most important parts of determining the boat storage options available to you. Learning about the sizes of storage units and which watercraft will fit in each unit can help you decide which spaces will work best for your boat. From jet skis to yachts, every type of watercraft can have an ideal storage option.
Jump to a RV type:
Storage unit size for jet skis
A 15'x20' storage space, or half of a garage, will easily fit your jet ski. Since jet skis are smaller than most other watercraft, they're typically easier to store. Finding a permanent indoor storage solution is optimal since jet skis aren't designed to be stored outdoors for long periods of time. When preparing your jet ski for storage, cover it properly and store the vessel on its trailer. Small boats like skiffs and small drifters can also be stored in a 15'x20' storage space. Just be sure to measure the dimensions of your boat on the trailer (not only the boat) when determining the right size of storage unit for your boat.
Storage unit size for a houseboat
A small houseboat will fit into a 20'x40' space, but you will need a specialty storage space if you have a large boat. Since most storage units are approximately eight feet tall, it's important to remember to take your boat's height into consideration. When it comes to storing your houseboat, the most common methods are dry lift storage and enclosed storage. Be sure to properly block and stabilize your boat.
Storage unit size for a yacht
Yachts can range from 30 feet to over 100 feet, so storage sizes can vary widely. Additionally, your yacht may have one to three levels of living space. This means the height of your storage space also has a wide range. Due to the massive size, height, and weight of these vessels, the best way to store your yacht is to use wet slip storage or a specialty yacht lift. Using a lift can be expensive and cumbersome depending on the size of your watercraft, so wet slip storage, or dockage, is the recommended storage method. You can find dockage space in the private sector for a reasonable price or look for slip space at a storage yard.
Storage unit size for a speed boat
Most boats will fit into a 15'x30' storage space. However, you'll likely store additional gear with your boat. To make sure you have space for your boat trailer and other boating gear, look for a 15'x35' space. Whether you choose indoor or outdoor boat storage, your speed boat can be safely stored on its trailer, giving you easy access and everything you need in one place. Indoor covered storage will offer your boat the most protection. But if you've taken the necessary steps to winterize your boat and invested in a cover, outdoor storage can save you money.
Storage unit size for a sailboat
Small sailboats such as sailing dinghies, beach catamarans, daysailers, and racer-cruisers will easily fit into a 15'x30' storage space. You will need a 20'x40+' space to store larger racing and cruising sailboats. Sailboats can be stored indoors or outdoors as long as they are covered and blocked properly. When storing your boat for the winter, make sure to winterize the boat as recommended by the manufacturer.
Storage unit size for a pontoon boat
You will need a 15'x25' to 20'x40' space for your pontoon boat, depending on the size. Both Indoor storage and outdoor storage are recommended for long-term pontoon storage. If you plan to use your boat year-round, use dry lift boat storage to protect your watercraft from water damage. When using dry lift storage, it's also important to know the height and loaded weight of your boat.
Storage unit size for kayaks and canoes
A single kayak or canoe can fit in the smallest storage units, like the 15'x20' unit required for a jet ski. However, since kayaks and canoes are designed for only one or two users, multiple vessels are often stored together. For proper kayak and canoe storage, a stand is typically recommended. This helps mitigate the risk of hull damage during long-term storage. Indoor storage is also advised to avoid the damage caused by UV rays. When deciding where to store your kayak or canoe, remember to measure adequate space for stands and temperature control to avoid damage.
Benefits of Storing a Boat With Neighbor
Many traditional methods of boat storage have notable drawbacks that can hurt your pocketbook or your boat (or both). Most boats need specialty storage options with plenty of height clearance and convenient access. Instead of facing expensive marina prices or dealing with the hassles and maintenance issues of storing your boat at home, consider a better type of storage from Neighbor. To put it simply, we match empty space with other people's extra stuff. Instead of settling for less than optimal storage or paying more than you can afford, match your needs to the many storage spaces available in the area where you wish to store your watercraft. Storage from Neighbor provides the following benefits for boat owners.
Cheaper boat storage costs
Neighbor offers affordable storage or parking spaces at 50% less than traditional storage facilities. While typical boat storage options inflate prices to meet demand, Neighbor renters provide affordable options for all types of storage. Traditional boat storage costs vary widely by location, cost of living in your area, and demand. Boat storage with Neighbor doesn't include any of these inflated price conditions. This means boat storage with Neighbor is more affordable than even the cheapest comparable options of traditional boat storage.
More secure and reliable
Most traditional storage facilities have less than optimal security, especially for outdoor storage options. Even worse, these spaces aren't saving you any money for their lack of services, either. Storing your boat with Neighbor is 14 times safer than traditional storage facilities.
More convenient storing locations
Finding a storage facility for your boat can be a challenge. Whether you want to store your boat near your favorite boating spot or near your home, finding the space you need can be difficult. Boat owners live in both rural and populated areas. However, traditional storage options for boats are often scarce in many areas. Neighbor provides suitable boat storage spots with indoor or outdoor storage options in both rural and heavily populated areas. Since you're not dealing with a traditional, overly busy storage facility, your space is easily accessible during all seasons. With our easy-to-use app, you can quickly find and reserve storage options for any size boat and move in as soon as you're ready.
Got empty space to fit a boat or water toys? Rent it out to a Neighbor.
If you have empty storage space that isn't useful to you, it could be very useful to a local boat owner. Boats and other watercraft come in a variety of shapes and sizes. Whether your storage space is 15'x20' or over a hundred feet long, there may be a boat owner in the area happy to rent your space for boat storage.
Since boats are often stored on a trailer, you don't need specialized storage equipment. The boat owner will simply pull the vessel in and leave you with extra monthly income to enjoy while they utilize your unused space. Setting up and managing your listing is easy, which means you get extra income with practically no effort at all. Additionally, we provide you with a Host Guarantee which protects you up to $1,000,000 for personal liability. Making use of your unused space couldn't be easier, and your neighbors will thank you.