All About RV Storage
Owning an RV means you're always ready for a vacation with a traveling camping spot anywhere you want to go. For RV owners, summer is often filled with camping trips, traveling whenever and wherever you please, miles of family time on wide-open roads, and visiting scenic towns. Your camper can be a constant companion during the summer months. But when winter arrives, you'll be facing a new issue. Finding a suitable storage spot for your motorhome can be a challenge.
The typical RV is 20 to 25 feet long and weighs over 5,000 pounds. That means you're going to need a large, secure area to keep your vehicle protected all winter. Unfortunately, storing a home-on-wheels next to your actual home isn't possible for many people. So, how can you take care of your investment when you don't have a massive garage or a spare driveway? You'll need to find secure storage in a convenient location away from your home.
This guide will provide everything you need to know about navigating RV storage.
Jump to a RV storage section:
Common Reasons for Needing RV Storage
Whether you're facing strict neighborhood rules or you need to be able to use your driveway, there are many reasons RV owners have to find a spot to store their camper away from home. While your massive RV is a welcome sight while you're preparing for a vacation, it's likely not the view your neighbors want to see year-round. These are the most common reasons RV owners search for storage options away from home:
Seasonal storage and weather protection
For many people, campers are used most during the summer months. Harsh winter weather can take a toll on your vehicle when it's not in use. To enjoy years of travel and vacations, you need to protect your investment and extend its lifespan with proper storage that can help you avoid the elements. Winter storage is one of the biggest reasons RV owners seek a suitable storage spot away from home. After all, it can be challenging to find a spot on your property large enough to provide weather protection for a motorhome.
More free space
If your camper has been living in your yard or taking up your driveway for months, you may be feeling a bit cramped every time you go outdoors. For many RV owners, a motorhome is too tall to store in the garage and too wide to fit in the driveway. Even when you have space at home for your RV, shifting vehicles around every day can quickly become tiresome. All too often, home storage isn't the best option, no matter what size trailer you own. Finding a more convenient storage spot allows you to take back your space at home.
Residential covenants or homeowners agreements
Whether you rent or own your home, you may not have a choice about the types of vehicles you leave parked on your property. City ordinances, community rules, and HOA regulations often govern whether you can park your RV outside your home. While it's likely no surprise you can't park your RV in the limited space beside an apartment building or condominium complex, it may be a surprise to realize you can't park it alongside your home in a residential area. Many neighborhoods have HOA rules or other regulations that won't allow you to park your RV in your driveway or on the street for long periods of time. Proper storage can help you avoid fees for breaking the rules.
Convenience and local access
All too often, a residential neighborhood isn't a convenient place to keep your RV. For instance, if you spend an extra hour traveling along narrow roads before you ever reach the highway, you're hardly starting your vacation on a relaxed vibe. For RV owners with a favorite camper spot, storing the RV next to your vacation destination just makes more sense. You can save gas and time by driving your car to your storage space. Then you can start your vacation at your favorite spot right away.
Better security and protection
No matter what size RV you own, it's a big investment. You lead a busy life, and keeping your eyes on your camper at all times is impossible. Leaving your RV in your driveway or by the street can mean it's completely exposed to passing traffic and pedestrians, potentially making it a target for theft and vandalism. If your RV is stored close to passing traffic, accidental damage can add up, as well. Quality RV storage often comes with the added benefit of security features that can give you peace of mind and save you the expense of damage-related repairs.
Types of RV Storage
When it comes to finding the perfect spot to store your RV, there are several types of RV storage to choose from. Learning about each type of storage and factoring in your personal storage wishes for your camper can help you make the right choice of where to store your RV. Whether you hope to store your RV close to your home, near your favorite vacation spot, or close to the highway so you can quickly get on the open road, consider the following factors when considering types of RV storage:
Accessibility: The ability to access your RV whenever you want is an important factor for many RV owners. It allows you to leave for a trip at the most convenient time possible and check or service your vehicle as needed.
Cost: Indoor, climate-controlled storage would be a great option for keeping your camper in great shape. But it may not be an affordable option for most RV owners.
Local Climate: Determining whether indoor or outdoor storage is optimal depends heavily on the local climate. Being in an area with frequent harsh storms or extensive exposure to the elements could be a reason to seek indoor storage.
Location: Finding a convenient storage location for your camper can be a challenge. The area you live in or where you store your RV for convenience might dictate the storage options available to you.
Finding the ideal storage option for a large vehicle can be a challenge, so it's important to keep your preferred conditions in mind when you learn about the types of RV storage available.
Jump to a type of RV storage:
Outdoor RV storage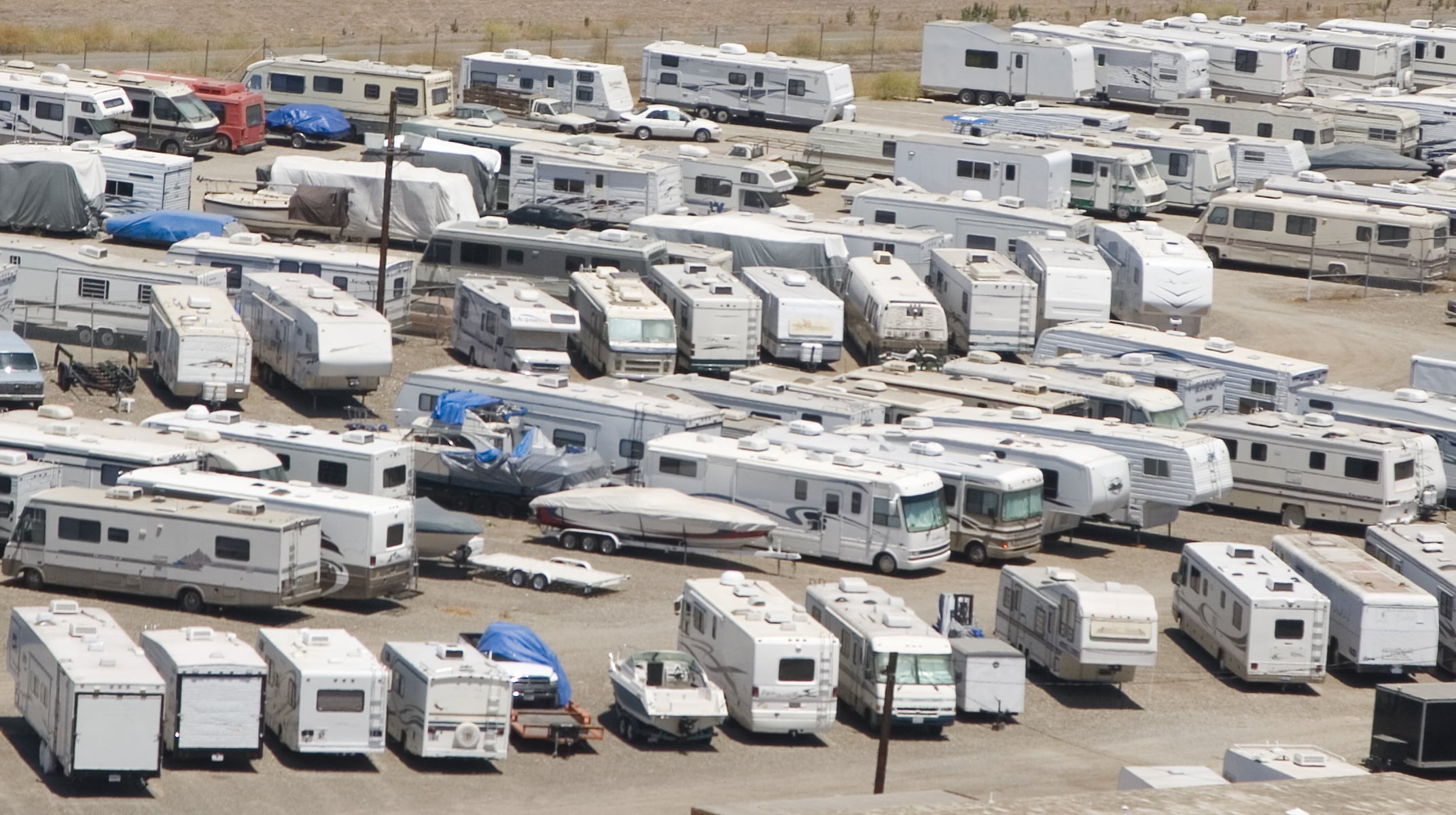 Outdoor storage is one of the most common options available for RVs due to their size and height. These options have the advantage of saving you some money but offer less protection than many other types of storage for campers. However, there are different types of outdoor storage with varying levels of security. Outdoor storage does leave your motorhome vulnerable to the elements, so it's a good idea to invest in a specialized cover to protect your vehicle for long periods in storage.
Open land lots
These lots may be paved or dirt lots that provide parking for storage on a first-come-first-served basis. Instead of specific parking spaces, you'll likely choose where you want to park your RV within this type of lot. Usually, the use of open land lots is for owners who must make cost the first priority and don't often face harsh weather.
Parking spaces
Some RV storage facilities have paved parking lots with designated spaces to park large vehicles. Available parking spaces typically start at 8'x20,' and prices vary by size. While paved parking spaces leave your trailer vulnerable to many of the same elements as open land lots, parking on pavement eliminates the worries of dust and dirt.
Driveways
Storage rentals for large campers can vary widely. If a facility has extra driveway space surrounding a building, you may have the option of renting a portion of this space. Driveway storage may be paved or unpaved and is generally located close to a building. Like other outdoor options, you can expect complete weather exposure and should plan accordingly.
Indoor RV storage
Indoor storage provides a fully enclosed area that will completely protect your RV from the elements. This type of RV storage is the most secure and will keep your RV in the best condition. However, it typically also comes with the highest price tag. Size is the ultimate consideration you need to make if you are looking at enclosed RV storage spaces. The space is strictly defined, so you need to know the dimensions of your RV, including the length, height, and width. While indoor storage is generally most expensive, RV owners who live in an area with harsh storms or extensive snowfall will likely save money by avoiding weather-related repairs. Indoor storage options consist mainly of garages or roll-up door units.
Oversized garages
While many home garages don't meet the height requirements of RVs, storage facilities may provide this option. Indoor garage storage may mean you're storing your RV alongside other motorhomes. So it may provide limited accessibility compared to individual roll-up door units.
Roll-up door units
Indoor camper storage spaces typically have a large roll-away door. They are between 14-20 feet wide and have varying heights and lengths. They are usually around 20 feet tall and 45 feet long. This allows a large majority of RVs to fit within them.
Covered RV storage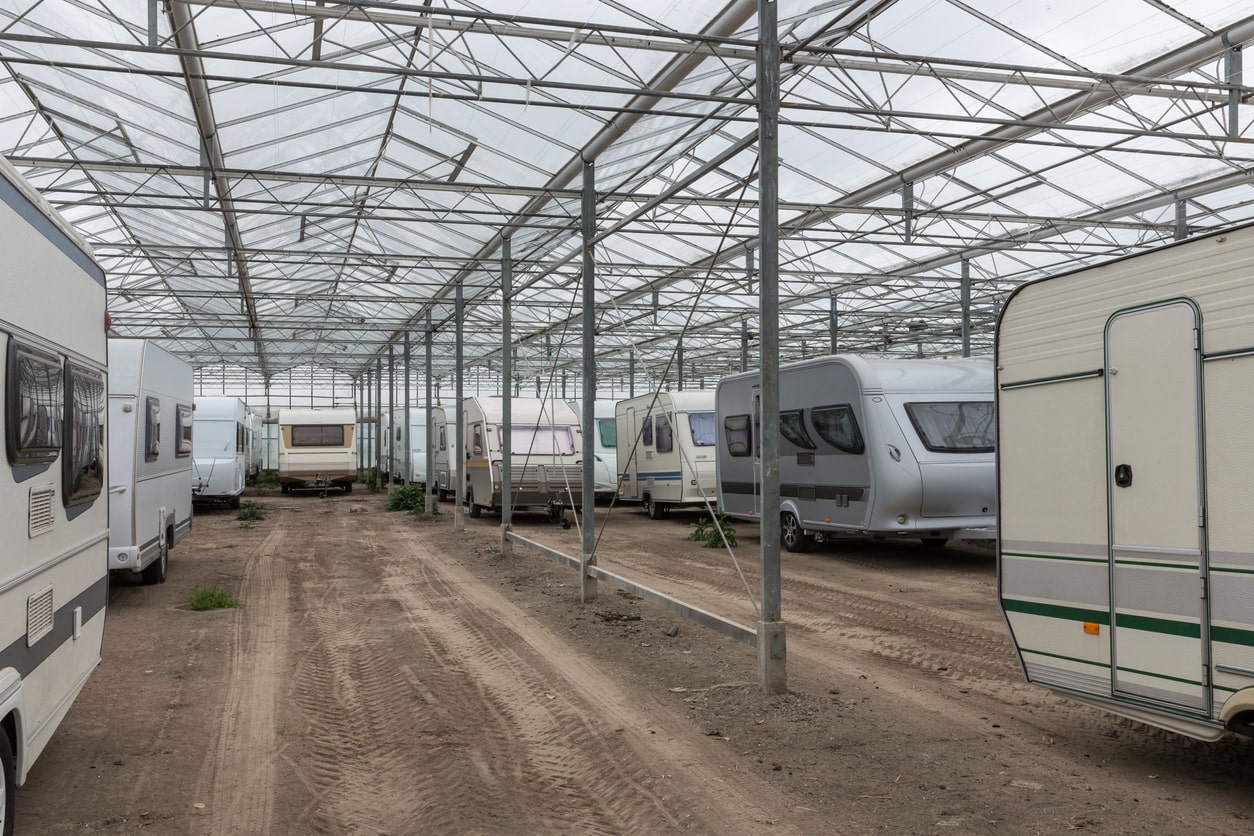 To get the benefits of some weather protection and avoid the cost of enclosed indoor storage, many RV owners opt for covered RV storage. This option provides a protective roof but generally no side protection. It also allows height clearance for larger trailers. While covered storage protects your vehicle from sun exposure and most precipitation, it generally doesn't provide individual stalls for RVs, so you can expect your vehicle to be parked alongside other campers.
Carports
A single carport can provide a covered storage option without your RV being surrounded by other vehicles. Carports typically have no walls and provide only the protection offered by a sturdy roof.
Canopies
Stand-alone canopies are either a roof supported by pillars or a roofed enclosure with three walls for additional protection. Three-sided canopies generally offer the best protection, especially if the open side isn't east or west facing.
Covered open-air storage
Similar to a covered parking area, covered open-air storage is a large parking area with roof coverage that provides storage space for several RVs. These structures are generally only supported by pillars and are without the added protection of walls.
RV Storage Unit Size Guide
Jump to a RV type:
RVs vary widely in type and size, making the storage unit needs of one RV owner vastly different from the next. Determining your ideal storage space begins with the knowledge of the type of motorhome you have and learning about the typical storage spaces available for each RV type. You may even want to refer to our storage unit size guide for storing your RV with other positions. This essential guide to the types and sizes of RVs and campers can help you determine what type of storage unit to look for.
Storage unit size for Class A motorhomes
Class A RVs are described as motorhomes for a reason. These are the big ones that have all the space for amenities and even mobile garages. Class A motorhomes range from 26 to 45 feet long and weigh between 13,000 and 30,000 pounds. To store these massive beasts, you'll need to find storage space or a unit 40 to 50 feet long with a height clearance of 15 feet. It can be difficult to find indoor storage for Class A motorhomes, but covered storage options are often available.
Storage unit size for Class B RVs and vans
Surprisingly, Class B RVs and vans aren't one size down from Class A. They're actually a size smaller than Class C. Class B RVs, often referred to as camper vans, range from 17 to 23 feet in length and weigh between 4,000 and 9,000 pounds. A Class B's smaller size means both indoor and outdoor options are more readily available. You can typically expect to fit your Class B motorhome in a 25' to 30' storage unit space. Since height can vary quite a bit among Class B RVs, it's important to know your personal height requirements.
Storage unit size for Class C RVs
Class C RVs are the middle option between Class A and B. Not quite as large as a Class A, Class C motorhomes are 20 to 30 feet long and weigh between 10,000 and 13,000 pounds. The smallest Class C trailers will fit in a 25' storage unit, but most will require 30' to 35' storage spaces. With sleeping space often located above the cab, Class C RVs are typically taller than 10 feet. Indoor storage units are more difficult to find for all but the smallest Class C motorhomes. But covered and outdoor storage options are often available.
Storage unit size for pop-up trailers
More like a tent alternative, pop-up trailers almost always require winter storage. These RVs are lighter-weight campers that fold into themselves for towing. Typically around 8 to 15 feet in length and weighing between 700 and 4,000 pounds, pop-up trailers have more storage options than their larger counterparts. Height is generally less of a consideration, making indoor storage units 20 feet and under a prime solution for storage.
Storage unit size for fifth-wheel trailers
Fifth-wheel trailers are the larges trailers you can tow behind a vehicle. These trailers offer all the space and convenience of a Class A motorhome as long as you can handle the towing requirements. A fifth-wheel trailer can range from 22 to 40 feet in length and generally weighs between 7,000 and 20,000 pounds. The large size of your fifth-wheel will mean the storage requirements are similar to those of a Class A motor home. Often, indoor storage can be difficult to find, but covered storage options may be available. It's important to note that your storage space will need to provide you with adequate space to pull in and hook up the trailer.
Storage unit size for travel trailers
Travel trailers, also called tow-behind trailers, have the widest size range of any RV. These campers hook to a standard trailer hitch, and the way you tow yours will likely depend on its size. Travel trailers range from 10 to 40 feet in length and weigh between 1,100 and 12,000 pounds. A 10-foot travel camper will likely have easy options for indoor storage accommodations. But the largest travel trailers will have challenges similar to those of a Class A motorhome or large fifth-wheel. Like the fifth-wheel, it's important to note that you'll need space to back up to the trailer and attach it to your vehicle.
Storage availability and types are largely dictated by the size of your RV. This can mean you may have difficulty finding storage options for large RVs in some areas. Be sure to take precise measurements before committing to a space you may not be able to fit in.
How Much Does RV Storage Cost?
There are several factors that can go into determining the cost of RV storage. From the size of your camper to the state you live in (and even local demand), rates can range pretty widely. These factors can determine how much your monthly RV storage costs will be:
Location
Storage prices for large units can change significantly from one state to the next. Rural and urban areas can be priced differently, as well.
RV size
An indoor heated unit for a Class A motorhome has a much higher monthly storage rate than the space you'd require for a pop-up trailer.
Type of storage
Indoor storage will cost more than outdoor or covered storage. Also, open lot storage is usually cheaper than canopy storage.
Amenities
Climate control, electricity, battery charging, and sewage dumping will all increase the cost of your monthly RV storage rates.
Storage rates vary widely from one state to the next, as shown by this Gold Eagle survey. But indoor units sized 10'x30' can range from just under $100 a month to over $250. Surprisingly, outdoor storage units in some states can be nearly just as expensive.
See our average monthly storage unit cost guide to a more in-depth look at the price for storage.
Benefits of Storing an RV With Neighbor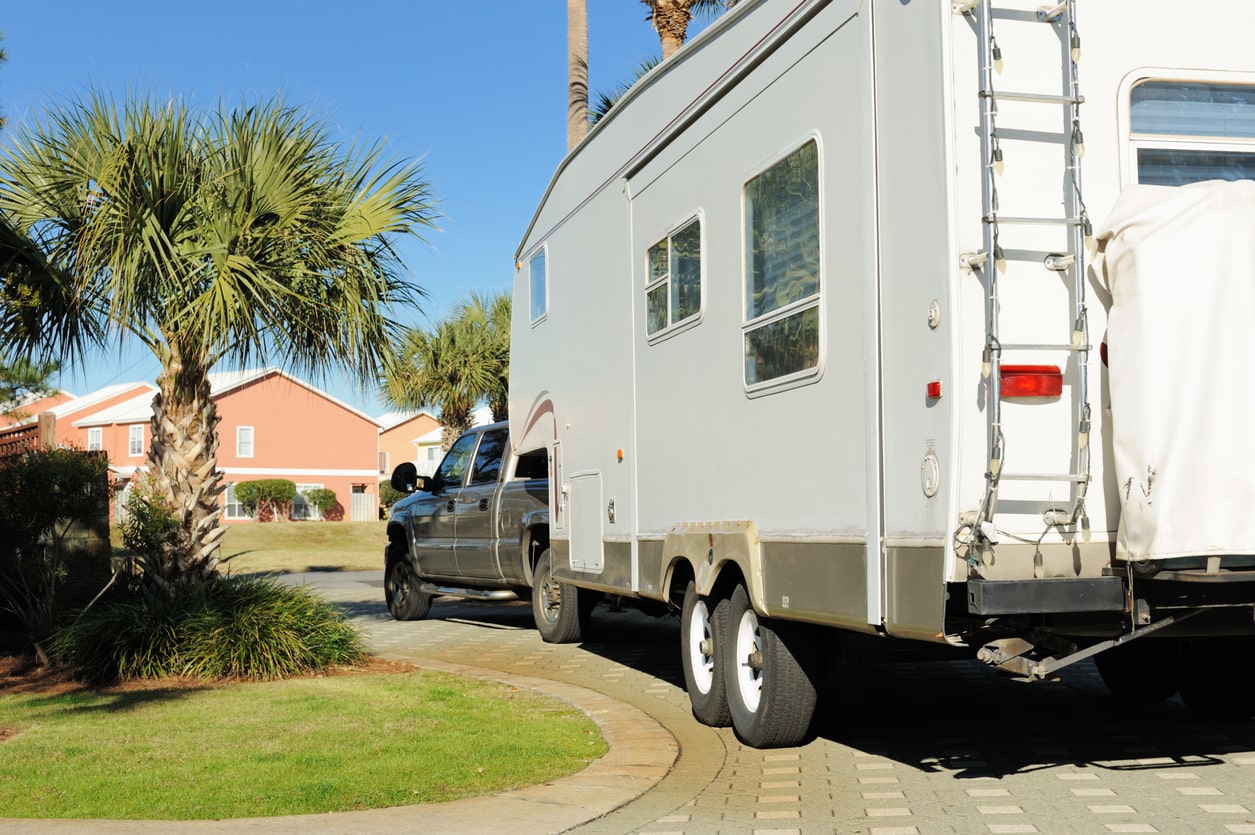 For many RV owners, finding adequate storage options can be difficult and very expensive. The large size of your RV combined with its unique height requirements can mean traditional indoor storage isn't even an option. Often, travel is required to find a suitable space, which can be a hassle, as well. Instead of facing the hassles associated with traditional RV storage or fines for storing your camper in a restricted area, consider a better type of storage from Neighbor. To put it simply, we match empty space with other people's extra stuff. You don't have to settle for less than optimal storage or pay more than you can afford. Match your needs to the many storage spaces available in the area you wish to store your RV. Storage from Neighbor provides the following benefits for RV owners:
Cheaper RV storage costs
Neighbor offers affordable storage or parking spaces at 50% less than traditional storage facilities. Generally, traditional RV storage fluctuates significantly due to demand and area availability. Neighbor doesn't work like traditional storage. So RV storage unit rates from Neighbor are often cheaper than the lowest-cost options from traditional storage facilities.
More secure and reliable
Many traditional RV storage options have minimal security features in place to protect your camper. Storing your RV with Neighbor is 14 times safer than traditional storage facilities.
More convenient storing locations
Finding a storage unit for your RV near your home or your favorite vacation spot can be difficult, depending on where you live. Where traditional storage options are scarce, Neighbor storage options are often plentiful. Furthermore, since you're not dealing with a traditional, overly busy storage facility, your space is easily accessible during all seasons. With our easy-to-use app, you can quickly find and reserve storage options for any size RV. Then you can move in as soon as you're ready.
Got empty space to fit an RV or camper? Rent it out to a Neighbor
If you have a large storage space that you're not really using, you could actually utilize that space to bring in some extra monthly income. Using your extra space as a rental unit for an RV can provide a convenient option for a local RV owner with no difficulties for you. Setting up and managing your listing is easy, which means you get extra income for practically no effort at all. Additionally, we provide you with a Host Guarantee which protects you for up to $1,000,000 for personal liability. Making use of your unused space couldn't be easier, and your neighbors will thank you.