All About Car Storage and Other Vehicle Storage Solutions
Your vehicle is one of the most expensive possessions you own, and car storage is a safe, designated location to store your vehicle while you aren't using it. Types of vehicle storage can range from a simple parking space to a full-sized storage unit. Depending on your situation and budget, there are several vehicle storage types and amenities to consider. The option you choose for storing a vehicle can have a major impact on the lifespan and resale value, so it's important to make an informed decision when selecting a storage unit.
This guide will provide in-depth knowledge about all the different types of vehicle storage there is to choose from.
Jump to a vehicle storage section:
Common Reasons for Needing Car Storage
There are a variety of reasons you may choose to store a vehicle. These are the most common reasons for needing car storage:
Weather protection
When deciding to store a vehicle for a season, outdoor or any exposed settings may not be optimal. Whether the aim is to protect against exposure to intense heat, UV rays, or from harsh winter weather, many seek out vehicle storage units to protect their cars from any potential damage from the elements. Many areas that experience harsh winter weather require the use of a 4-wheel drive vehicle, so storing the regular commuter car for the winter months may also free up some space at home.
More free space
Home storage for vehicles can be challenging for many. Those that own multiple cars might face limited availability if they live in an apartment or gated community, for example. In other instances, HOA restrictions may create additional parking limitations. Even in rural areas, cars or larger vehicles can take up a lot of space. Whatever the reason, storing a car in a storage unit can be the best solution to free up extra space.
Seasonal or rare usage
Many people own cars they don't use on a regular basis. Maybe you have a prized vehicle that you only drive when the weather is nice. For many, a large vehicle doesn't make a good daily driver, but it's occasionally needed for special trips. A rarely driven vehicle can be a burden when it's stored at home. Instead of working around it or putting it in a less-than-ideal location on your property, you may choose to store it away from home.
Temporary leave or military duty
Military members often leave possessions and vehicles behind while on duty. Individuals who travel for work or leisure can be faced with leaving a vehicle at the airport or other locations for several weeks at a time. Choosing a safe auto storage solution for these periods when you're away can help keep your car in the best shape possible.
Luxury, project, or antique car storage
For some people, a car is a vessel to get from spot A to spot B. For others, it's a cherished possession to be enjoyed on special occasions. Antique cars, project cars, and race cars are valuable possessions that require specialized care. If you've made an investment in a unique or classic vehicle, you likely need a storage option that will keep it in pristine condition.
Types of Vehicle Storage
Depending on the size of the vehicle and your specific storage needs, there are many types of vehicle storage options to choose from. Different types of storage vary in terms of costs, amenities, and weather protection.
Jump to a type of vehicle storage:
Outdoor car storage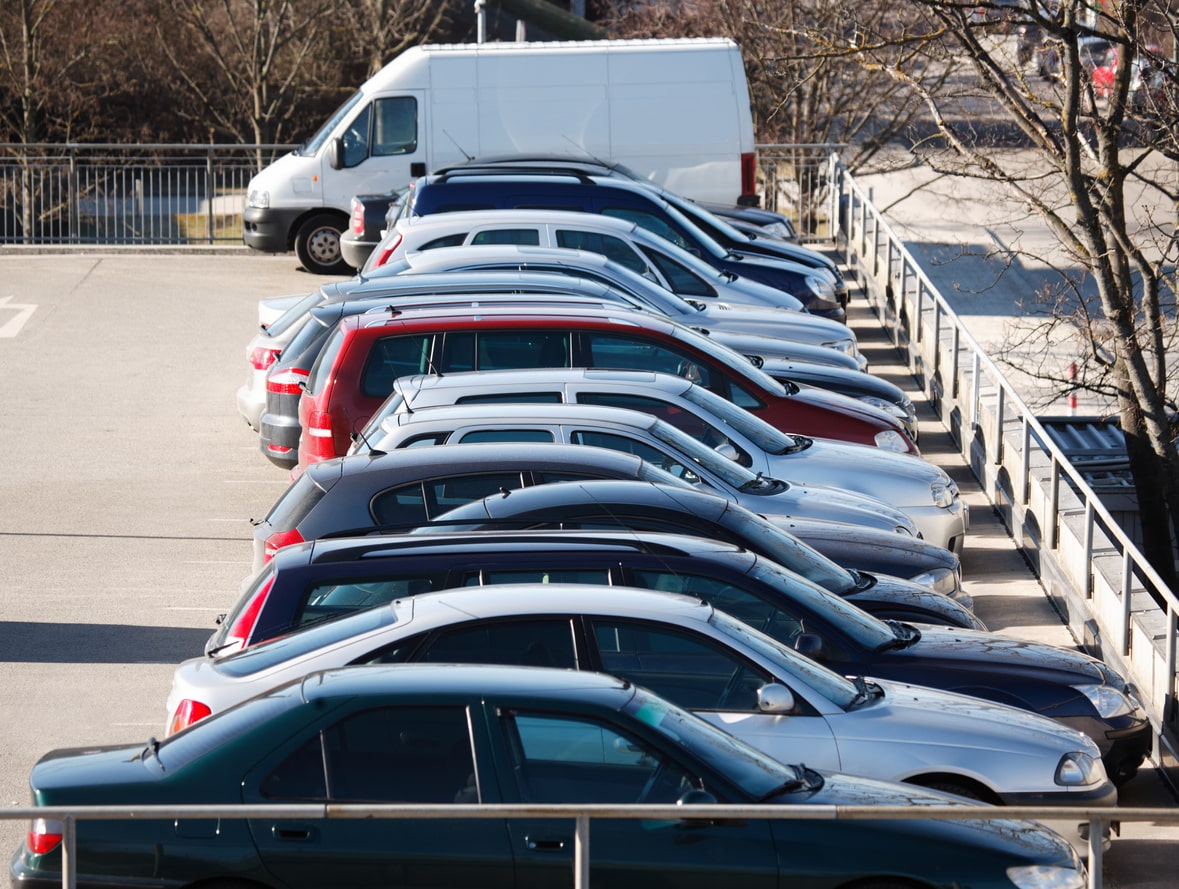 Storing your car outside is a suitable option for many types of vehicles. Outdoor car storage is the least expensive way to store your car, but it will leave the vehicle more exposed to the elements than a fully enclosed space. There are a few different options for outdoor storage with varying levels of environmental protection.
Open lots
Open lot storage options are usually large lots or fields that are paved, dirt, or gravel surfaces without designated parking spots. Your vehicle will be parked alongside other vehicles and completely exposed to the elements. A fitted cover is recommended to help protect your vehicle from harsh weather and grime.
Parking spaces
Vehicle parking spaces are typically rented from large lots where a variety of vehicles are parked. You'll likely have a designated parking space for your vehicle. While this option still leaves your car exposed to the elements, paved parking spaces eliminate the dust and potential damage associated with dirt and gravel lots. Parking lots are often surrounded by a fence and may offer heightened security compared to open lots.
Driveways
Driveway storage is often provided by storage facilities that house different kinds of storage units. The unused outdoor space surrounding the buildings is used to create outdoor storage options for vehicles. This option provides the security of having your vehicle parked near a building. Also, it will likely mean you're surrounded by fewer cars than in parking lot storage.
Indoor car storage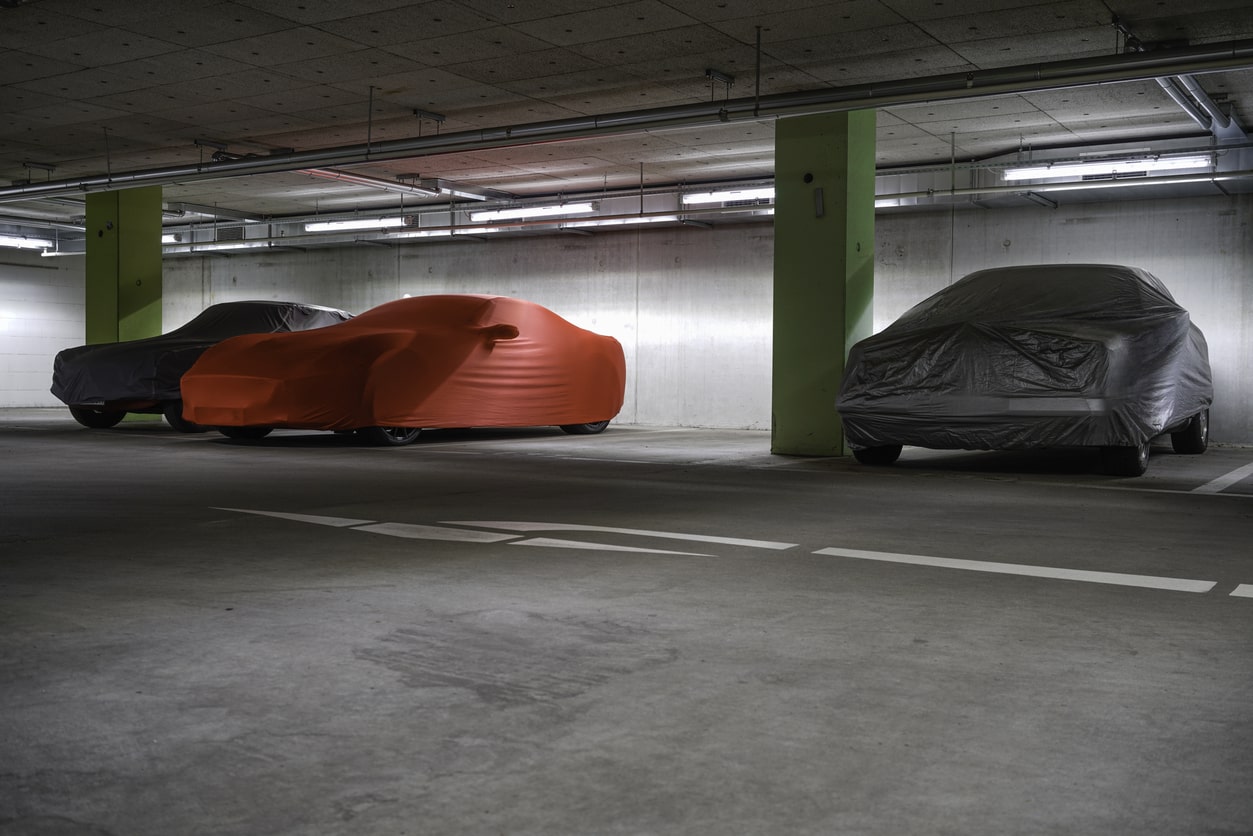 Indoor car storage provides your vehicle with superior protection compared to all outdoor storage options. Instead of leaving your car exposed to the weather, it will be stored in a fully enclosed area. However, if you want the perks of indoor storage, you'll have to pay a higher price. As you'll find in our indoor car storage guide, options for storing a car indoors vary in levels of temperature control, isolation, and size. Carefully consider your specialized needs before choosing the indoor storage that's right for your car.
Garages
Garage storage typically resembles a large warehouse where many vehicles are stored together. Other garage options include residential garages or detached garages. It provides a way for you to completely protect your vehicle from the elements. However, this option usually means your vehicle will be parked alongside other cars instead of alone in a personal stall or unit. While this option is acceptable for many common vehicles, it may not be the best option for antique cars or vehicles that require temperature control.
Roll-up door units
Also referred to as enclosed vehicle storage, this option provides you with the most secure means of storing your vehicle. Roll-up door units are essentially a large version of self-storage units and act as a personal garage you can drive straight into. These units may have temperature-controlled options and provide the most security for your vehicle. Costs for roll-up door units vary by size and included amenities.
Car lift storage
Typically used for boats or for cars in personal or mechanic's garages, car lifts allow vehicles to be "stacked" for storage. While boats are lifted into position by forklifts, most car lifts allow a driver to drive onto the lift and park before lifting the vehicle into a storage position.
Covered car storage
Striking the balance between indoor and outdoor storage, covered car storage provides an outdoor option with some protection from the elements. Covered car storage typically means your vehicle will be parked alongside other vehicles under a single roof.
Carports
Carport storage options have a roof supported by posts or pillars that provides some weather protection. The parking surface may be gravel, dirt, or paved. Your vehicle will be stored alongside other vehicles and will have protection from the harshest elements like UV rays, direct precipitation, and hail.
Canopies
Canopies provide an even higher level of covered car storage with the addition of three walls. Your car will be stored under the canopy with other vehicles and have considerably more protection than carports, especially if the open side isn't located on the east or west.
RV storage
RV storage is a specific type of vehicle storage option designed for the specialized needs and larger size of large RVs, motorhomes, campers, and trailers.
Boat storage
For storing boats or watercraft, boat storage may be the best vehicle storage option. While indoor and outdoor options are available for boat storage, you must consider boat trailers and options that allow your boat to be stored on the water. Boat storage options also vary considerably by the size and type of your boat.
Camper or trailer storage
Camper and trailer storage options are similar to RV storage in many ways. Outdoor and indoor options are typically available. Additional amenities for campers like electrical hookups may be available, as well. Often, campers and trailers are smaller than other RVs, making indoor storage options more readily available.
Vehicle Storage Size Guide
Vehicles come in all shapes and sizes. Luckily, so do the spaces used to store them. When you're trying to find the right storage space for your vehicle, you want to get the most for your money. In order to determine the right size storage unit for your vehicle, you'll need to consider the type of vehicle you're putting in storage and its dimensions. Our storage unit size guide provides a detailed chart to help further. Use this size guide to help you determine the recommended size of storage unit you should seek for your vehicle.
Jump to a vehicle type:
Storage unit size for motorbikes and toy vehicles
When it comes to choosing storage for a motorcycle or the motorized toy vehicles used all summer, you can get away with a relatively small storage unit. A 5'x10' storage unit will comfortably store one motorcycle and the associated gear or two motorized toy vehicles. To store two motorcycles together, you'll probably want to upgrade to a 10'x10' or 10'x15' unit.
Storage unit size for a microcar
Microcars are the smallest cars on the road, usually only have one or two seats, and have a motor smaller than 700cc. While these cars can vary somewhat in size, you can expect them to fit in a 10'x15' storage unit.
Storage unit size for sedans
Sedans often have four doors and may be described as family cars. Sedans come in a variety of sizes and are usually classified as compact, midsize, or full-size.
Compact sedan
Measuring between 13 and just over 15 feet long, compact sedans seat four to five people. The shortest models will fit comfortably into a 10'x15' storage unit. Longer compact cars will fit comfortably in a 10'x20' unit.
Midsize sedan
Midsize sedans can be up to nearly 16 and a half feet long. They're also designed to seat up to five people, but they need a slightly longer storage space of 10'x20'.
Full-size sedan
Full-size cars are typically longer than 15 feet and are designed to provide plenty of room in the cabin and trunk. These vehicles usually fit comfortably in a 20'x20' storage unit.
Storage unit size for a van
Vans come in a variety of sizes to accomplish the varied uses for these vehicles. From work vans to family vans or even minibuses that carry up to 16 passengers, vans can have extremely different needs depending on the height and length of the vehicle.
Compact minivan
Compact minivans often have the sportiness of an SUV with the seating capacity of a minivan. They also boast improved gas mileage. Compact minivans fit comfortably in a 10'x20' storage unit or parking space.
Midsize minivan
Midsize minivans usually have a similar seating capacity to full-size vans in a smaller size vehicle. Midsize minivans fit comfortably in a 10'x20' storage unit or parking space.
Full-size minivan
Full-size vans seat up to seven or eight people comfortably with more room than other models. You may note that all minivans are rated for the same size storage unit. This is because the biggest minivan length differences are minimal, with the shortest (Toyota Sienna) checking in at 16'8" and the longest (Chrysler Pacifica) measuring just over 16'11". Full-size minivans also fit comfortably in a 10'x20' unit or space.
Minibus van
Minibuses are larger passenger vans that can carry between eight and 16 passengers. Minibus vans are often used for different types of public transport. These vehicles are usually around 23 feet long and up to nearly nine feet tall. Minibuses will usually fit comfortably in a 10'x25' parking space or storage unit.
4x4 camper/off-road van
Off-road camper vans are designed to provide an RV-type experience in a smaller package with off-road capabilities. Typically measuring between 18 and 24 feet in length, the smallest camper vans may fit into a 10'x20' space. But others will require a 10'x25' storage unit or parking space.
Storage unit size for an SUV
Sport utility vehicles come in a variety of shapes and sizes to fit practically every need. From subcompact to full-size SUVs, these vehicles can vary considerably in height, length, and width. While the height and width of your SUV will probably make a big difference when it comes to cabin space and passenger seating, they can be expected to fit into typical storage units that are 10 feet wide and used by most cars.
Subcompact SUV
Sometimes called mini SUVs, subcompact SUVs are more like high-riding hatchbacks than their larger counterparts. Generally measuring between nine and 12 feet in length, these vehicles fit comfortably in 10'x15' storage units or parking spaces.
Small SUV
Small SUVs are the vehicles that fit into the lower range of midsize SUVs. The average small SUV length is between 14 and 16 feet. If your small SUV runs on the very compact side, you might be able to squeeze into a 10'x15' storage unit. However, most small SUVs that don't fall into the subcompact category will fit more comfortably in a 10'x20' unit.
Midsize SUV
Average SUVs are between 14 and 16 feet long. They fit comfortably in 10'x20' storage units and parking spaces.
Full-size SUV
Full-size and extended SUVs are large vehicles that require considerable storage space. The largest SUVs can be up to 18 feet long, which means they fit best in 10'x20' storage units or parking spaces.
Storage unit size for a truck
Pickup truck
Mid-sized pickup trucks are sometimes referred to as compact trucks and are the smallest pickup trucks. While mid-sized pickups may vary slightly in size, they're typically just over 17 feet long and fit comfortably in a 10'x20' parking space or storage unit.
Full-size pickup truck
Full-size pickup trucks have a wide range of weight classes and towing capacities. The smallest full-size trucks with a standard size cab and short bed can fit into a 10'x20' storage unit. Most full-size trucks will require a 10'x25' or even a 10'x30' storage unit or parking space.
Heavy-duty pickup truck
Heavy-duty pickup trucks are sometimes considered commercial trucks. However, they can be owned by individuals. Heavy-duty trucks are typically like larger versions of the biggest full-size versions. These vehicles most often require a 10'x30' parking space.
Commercial truck
Commercial trucks vary widely by type, size, and weight. Smaller commercial trucks may include tow trucks, dump trucks, and smaller fire trucks. Large commercial trucks can include cement trucks, tractor-trailers, and garbage trucks. The lengths of these vehicles can range widely between 20 and 50 feet. Finding indoor storage for the largest trucks can be difficult.
How Much Does Car Storage Cost?
Car storage costs vary depending on the type of storage you need, any added amenities, and the size of your vehicle. In our average monthly storage unit cost guide, storage unit rates are considerably more affordable for outdoor storage of a compact car than the monthly storage rate to store a large commercial truck or RV. These factors will go into determining the storage cost for your vehicle:
Location
Demand can drive up storage costs in many areas. This means the cost may vary from state to state or be higher in urban areas.
Vehicle size
A smaller car is cheaper to store. Storage for large vehicles is often scarce and can be expensive.
Type of storage
Indoor storage is always more expensive than outdoor storage, and outdoor, covered storage is often somewhere between the two.
Climate control
Antique cars or other specialized vehicles may require climate control or humidity control to keep your cherished vehicle in perfect condition.
Benefits of Storing a Vehicle with Neighbor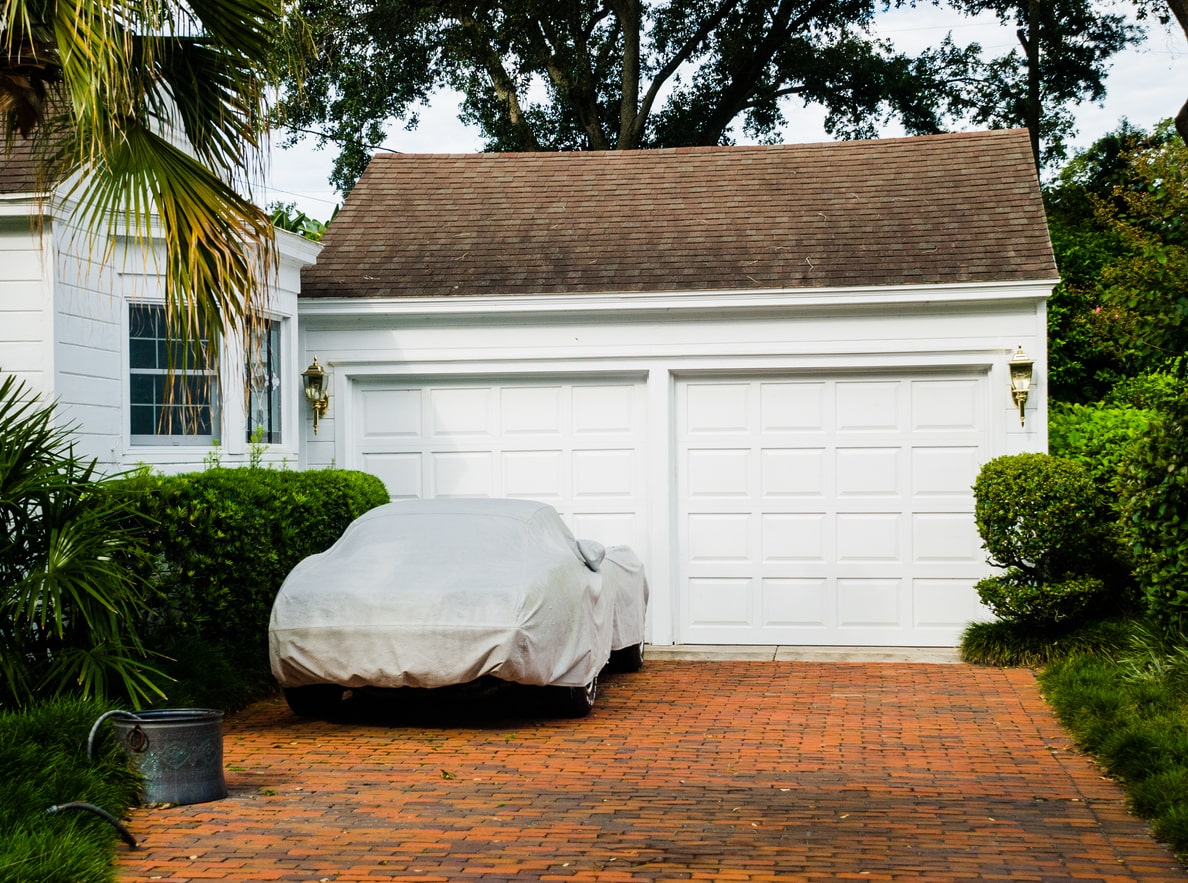 Finding vehicle storage options can be challenging and expensive in many locations. You may have difficulty finding an area where you can conveniently access your vehicle when you need it. Instead of dealing with the hassles of traditional car storage, consider car storage with Neighbor. To put it simply, we match empty space with other people's extra stuff. Instead of settling for less than optimal storage or paying more than you can afford, match your needs to the many storage spaces available in the area you wish to store your vehicle. Storage from Neighbor provides the following benefits for individuals seeking car storage:
Cheaper vehicle storage costs
Neighbor offers affordable storage or parking spaces at 50% less than traditional storage facilities. Car storage can vary considerably from one area to the next and is often expensive and difficult to find in urban areas. Since Neighbor doesn't depend on traditional facilities and the space needed to maintain them, we can provide cheaper options for car, truck, van, and other vehicle storage. Vehicle storage rates from Neighbor are often lower than the cheapest traditional options.
More security and reliability
Even with the purchase of insurance, you have few security guarantees with traditional storage. Storing your car with Neighbor is 14 times safer than with traditional storage facilities. We even provide an additional layer of security with our Renter Guarantee, which protects your belongings against damage during storage up to $25,000 at no extra cost to you.
More convenient storing locations
With so many regulations in place for many communities, it can be difficult to find proper car storage. Where traditional storage options are scarce, Neighbor storage options are often plentiful. Furthermore, since you're not dealing with a traditional, overly busy storage facility, your space is easily accessible during all seasons. With our easy-to-use app, you can quickly find and reserve storage options for any size vehicle and move in as soon as you're ready.
Got empty space to fit a vehicle? Rent it out to a neighbor
You don't need a commercial garage to have enough space to store a vehicle. In fact, compact cars fit into a variety of small to medium storage spaces or units. Using your extra space as a rental unit for a vehicle can provide a convenient option for a local car owner with no difficulties for you. Setting up and managing your listing is easy, which means you get extra income with practically no effort at all. Additionally, we provide you with a Host Guarantee which protects you up to $1,000,000 for personal liability. Making use of your unused space couldn't be easier, and your neighbors will thank you.